Cybernetic theory and interactivity have much in common. Most of the key notions in both of them can be described as the system in conversation that about the system talking to each other through the information passed back and forth between the particular relationship in audiences and artworks. These similar languages can be pointed out are feedback, control, conversation and system thinking in the field of cybernetic theory and interactive artworks. Some concepts of the cybernetic are applicable to interactivity. The core field of my thesis project that I am paying attention to is cybernetics and interactivity in which intersections with the participants will be discussed to contribute to developing communication, promoting the interaction and the relationship among the artworks, participants and observers. 
This major part of the project was set up on Twitter, which allows participants to have different artistic experiences. A new kind of interactive experience in observing art pieces is proposed to create cybernetic interactive artworks. As the outcome of this thesis, it features a modified Tweeting experience with an embedded communication system to create a unique opportunity. It utilizes the machine learning model to process the picture and immediately retweets the message back to social media in real-time after taking participants' inputs. It engages remote participants in a different way and allows them to share the interactive experience around the results of the artworks through this thesis project, which is giving me a new tool for enhancing my art practice.
l having seven years of experience with creative arts and technology, my main interest and enthusiasm are to create a more responsive and innovative experience for the audience and participants. My current Mdes research focuses on the development of art theory and technologies. I have focused on art and technology specifically by studying at Roy Ascott Studio, Shanghai Institute of Visual and Arts and OCAD University for the past years. Roy Ascott, the pioneer of Technoetic Arts, the former president of OCAD University, my dear professor in my undergraduate school, has inspired and influenced me a lot with his future vision. Ever since he taught us the basic idea of inputs, outputs, control and feedback in cybernetic theory, I often attempt to apply cybernetic theory as a guideline in the processing of creating artworks. This knowledge enables me to create immersive audiovisual installations and other creative technology products and outputs. Additionally, through developing a theoretical foundation in art and technology at Roy Ascott Studios, I have been given new ways to understand, evaluate and present digital artworks. An experience that would profoundly deepen my understanding of the possible intersections between art, technology and enable me to produce unique and challenging experiences for audiences and participants. 
1. How to identify interactive systems/artworks in the way of cybernetic thinking?
2. How to engage remote participants in a different way and share the interactive experience
 around the results of the artworks?
The Cybernetic Relationship In Interactive Artworks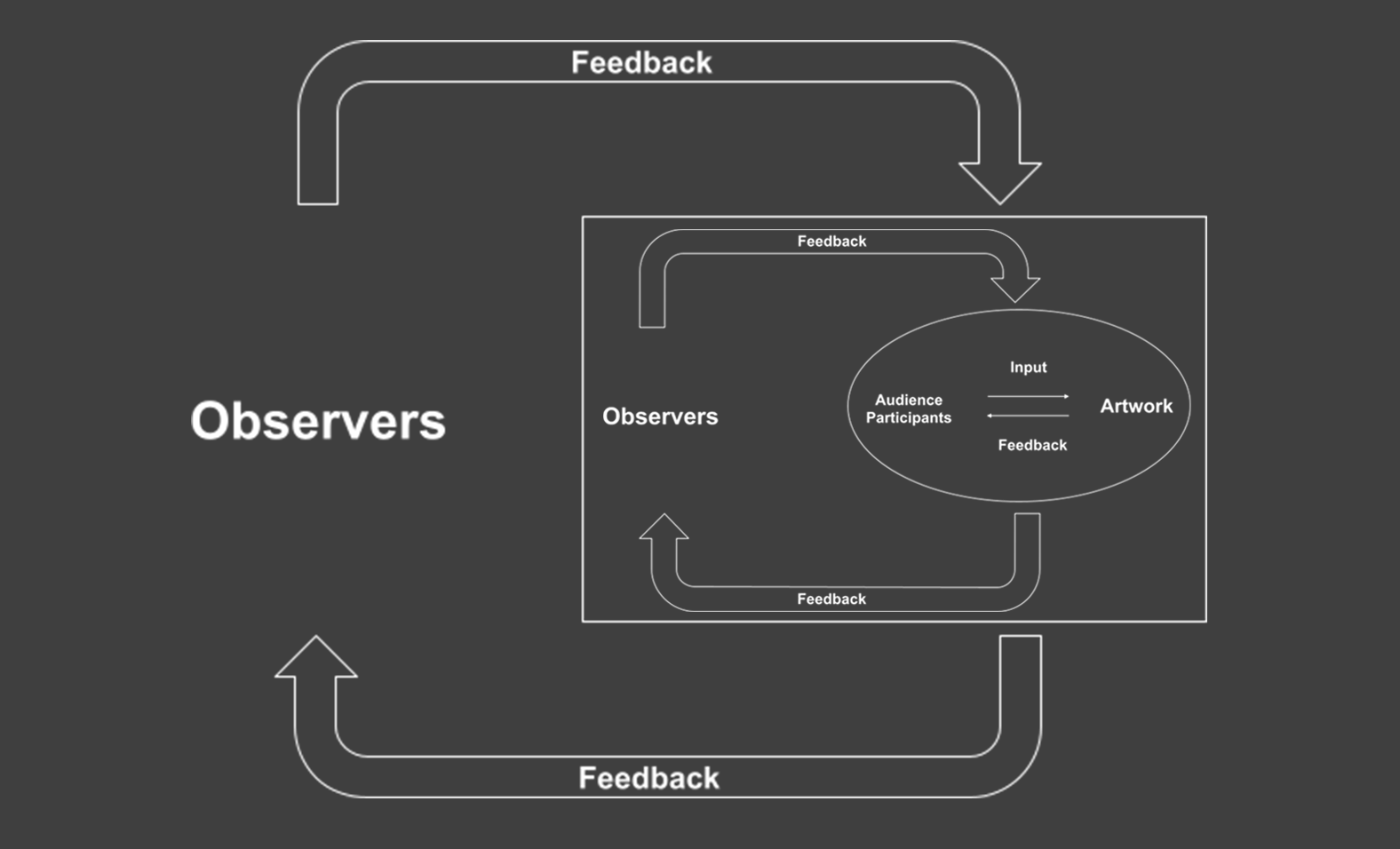 Iterative Prototyping Stages
Thesis Project Prototype 1
Thesis Project Prototype 2